Cryptocurrency Portfolio App
Track your investments in Bitcoin & Co.
Download CoinFolio to your smartphone now, create your cryptocurrency Portfolio, watchlists and keep an eye on all important data.
Simple and intuitive.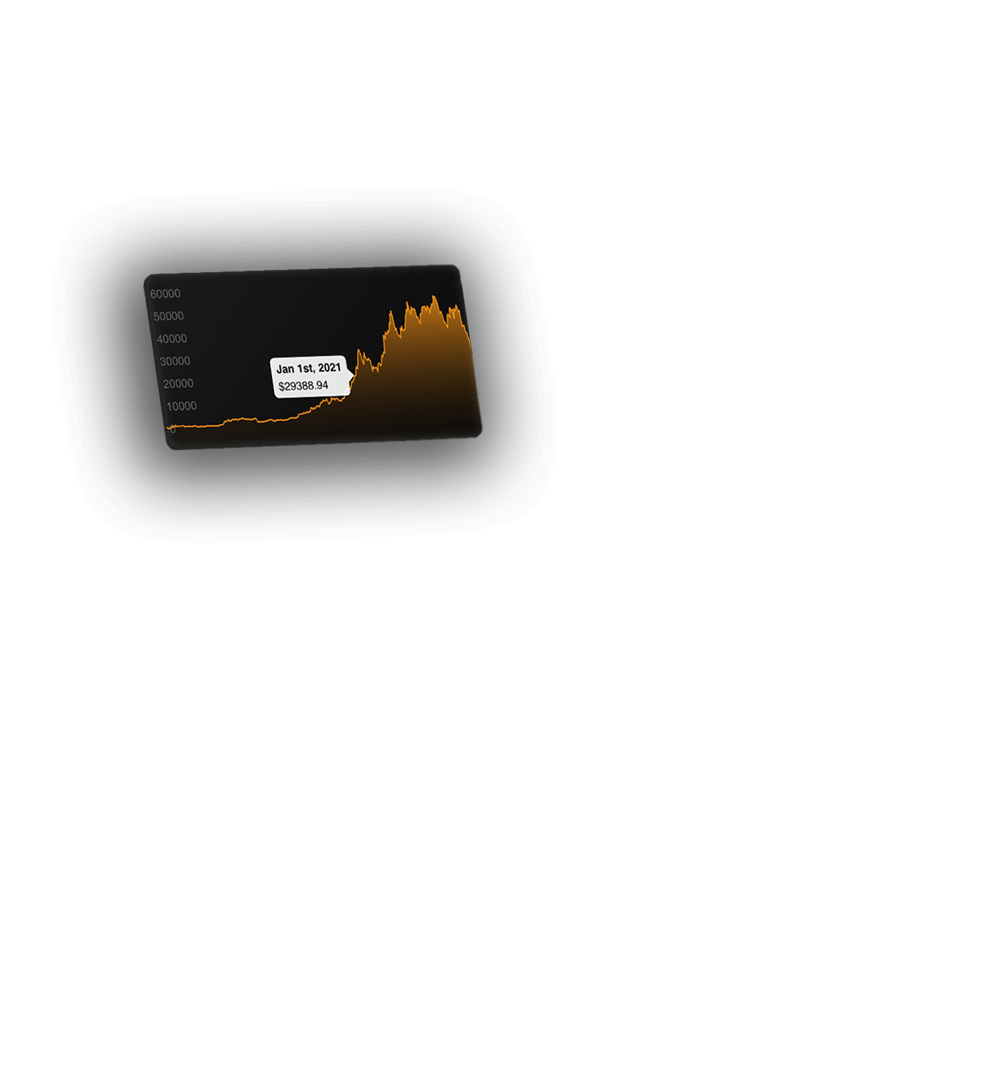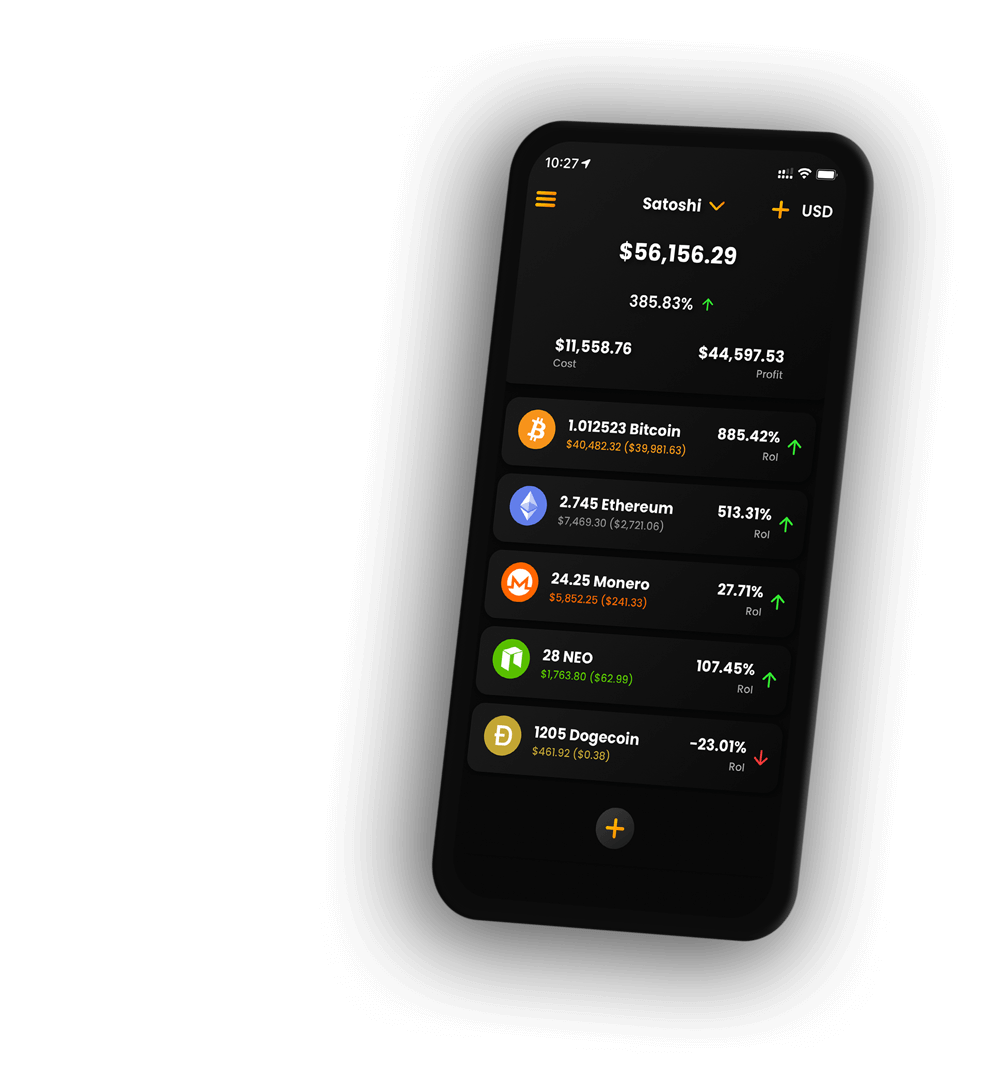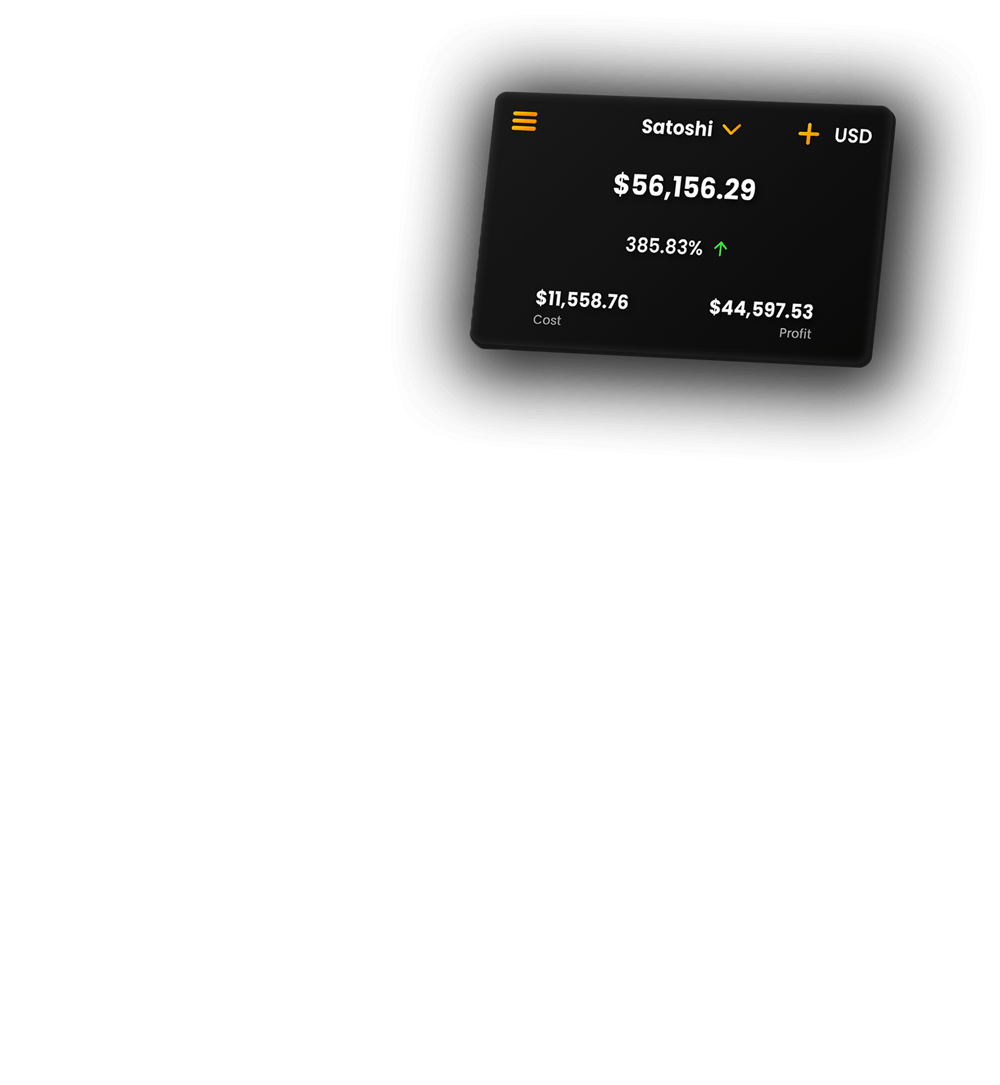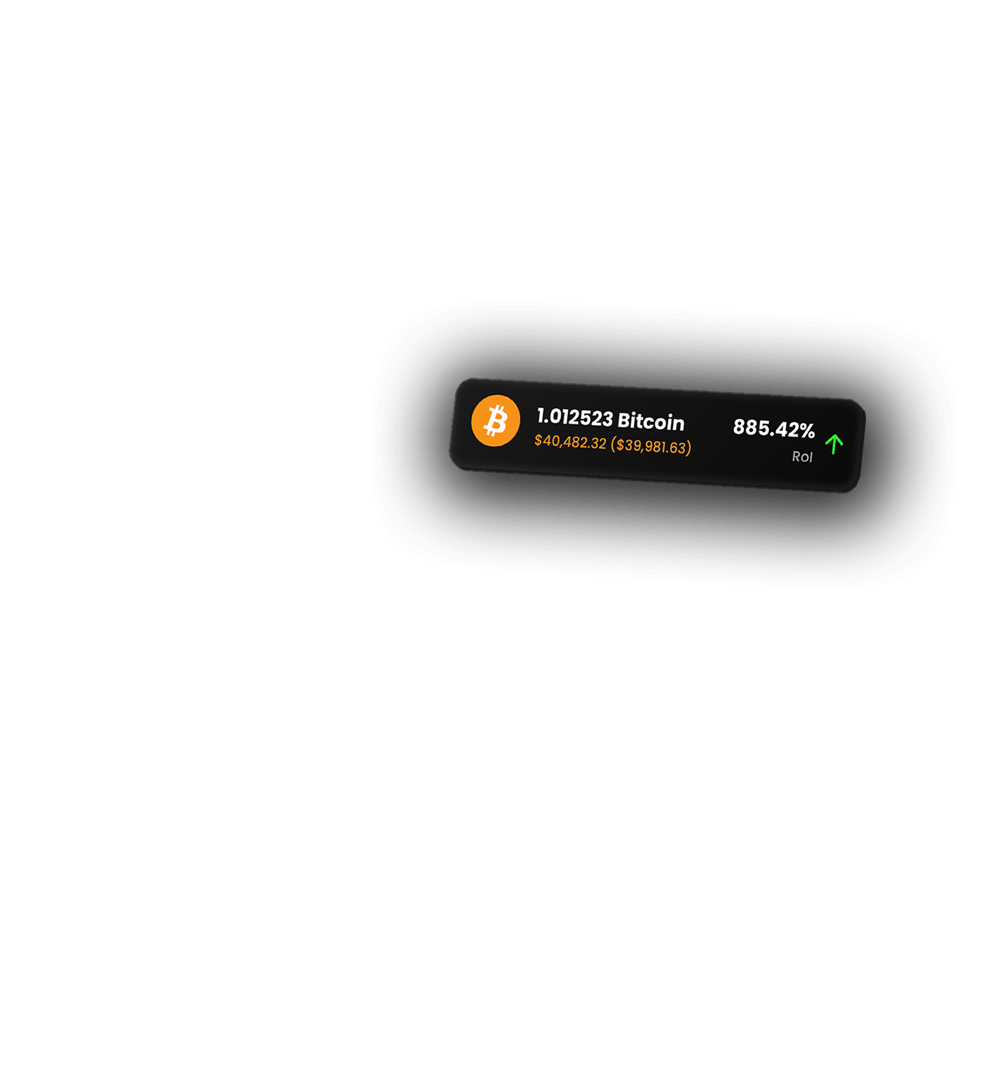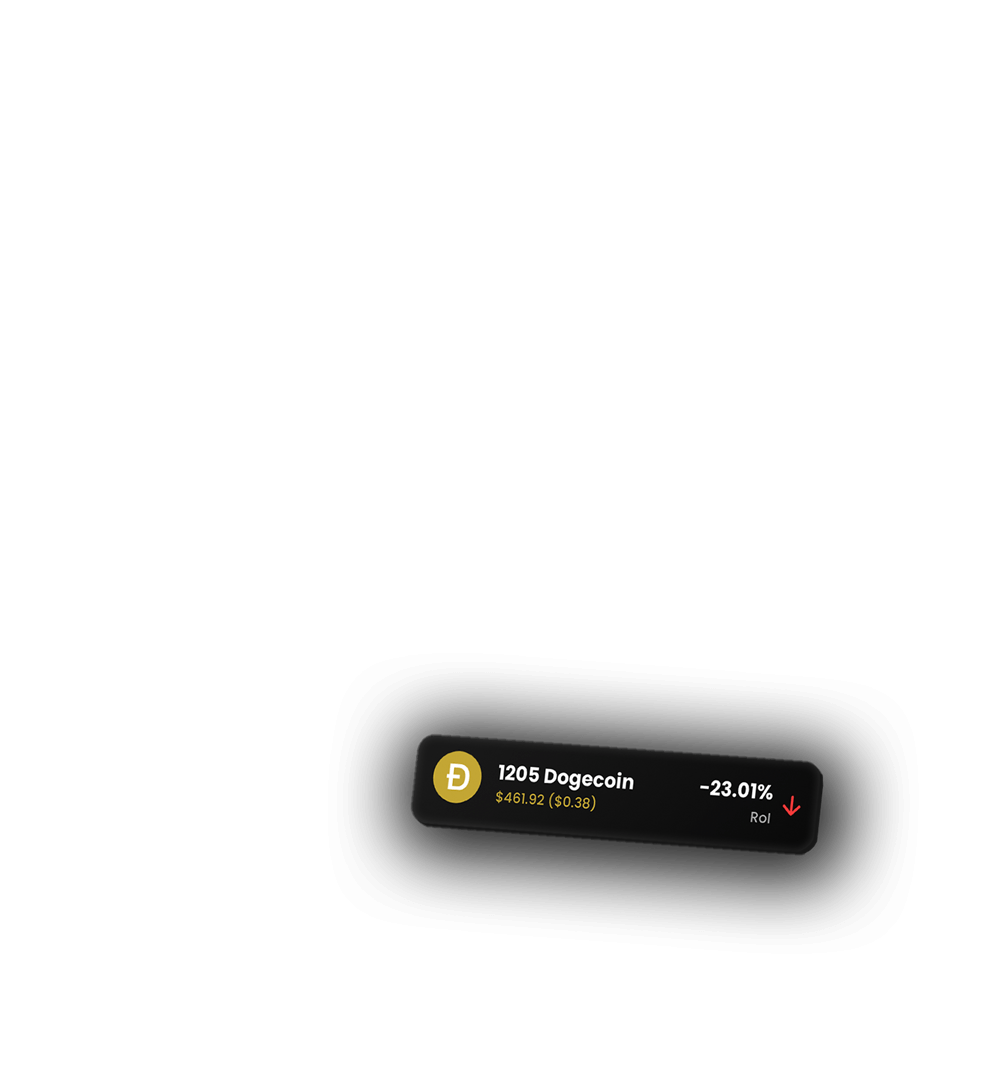 Real-Time Prices
All coin prices are updated 24/7
through the largest stock exchanges.
Track your entire Portfolio
Watch your Portfolio value, balances per coin and much more.
Free to use - Start now
Create your personal Crypto Portfolio now. Completely free!
Bitcoin, ethereum. Doge & more
Track over 2000 coins with CoinFolio in your fiat currency
With up to 2000 coins you can select nearly every major cryptocurrency or token you can imagine. If your favourite one is not on the list, please feel free to contact us and we try to implement it if possible.
Portfolio Balance up to date
Add new coins and track the value of your entire Portfolio
You can just add the new amount and cost of our positions at any time. There is no need to track every purchase, sale, date, time, exchange in great detail. CoinFolio is focusing on easy crypto tracking.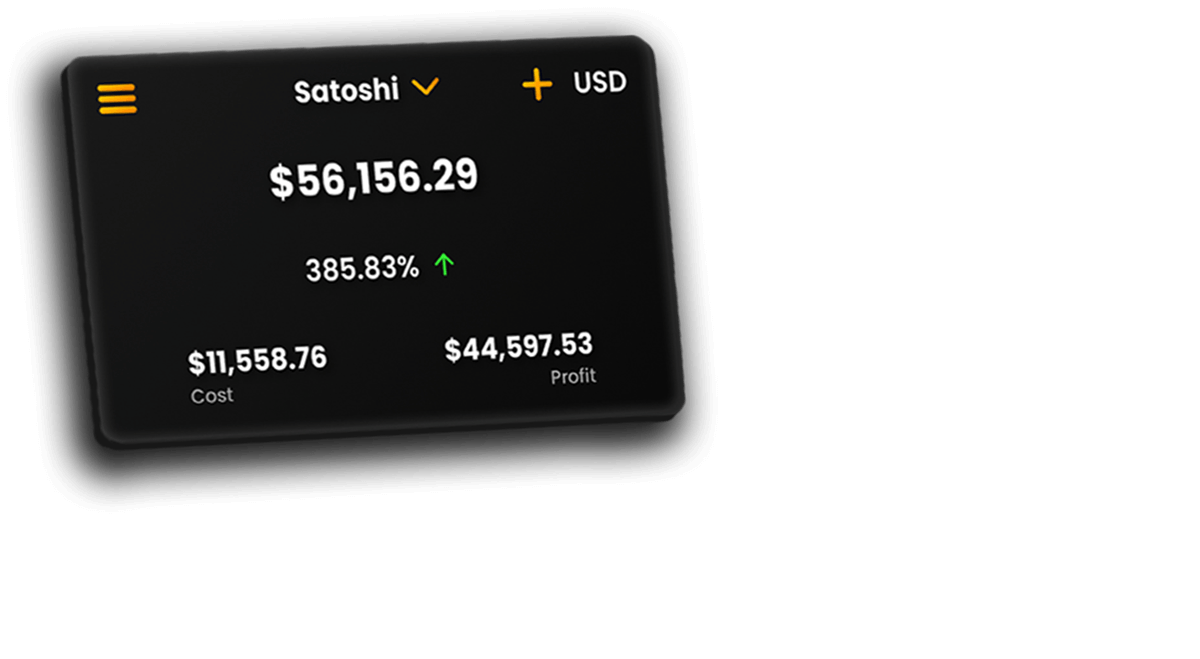 "If you don't believe it or don't get it, I don't have the time to try to convince you, sorry."
Your entire Portfolio & all important numbers in one App
CoinFolio offers you an intuitive and fast way to create and manage your Portfolio. After the installation, the first coin with all relevant key numbers is added in seconds.
Multiple Portfolios
You can add up to 3 portfolios to track different portfolios and watchlists.
Full security of your data
Everything is saved on your device. We don't collect any of your data.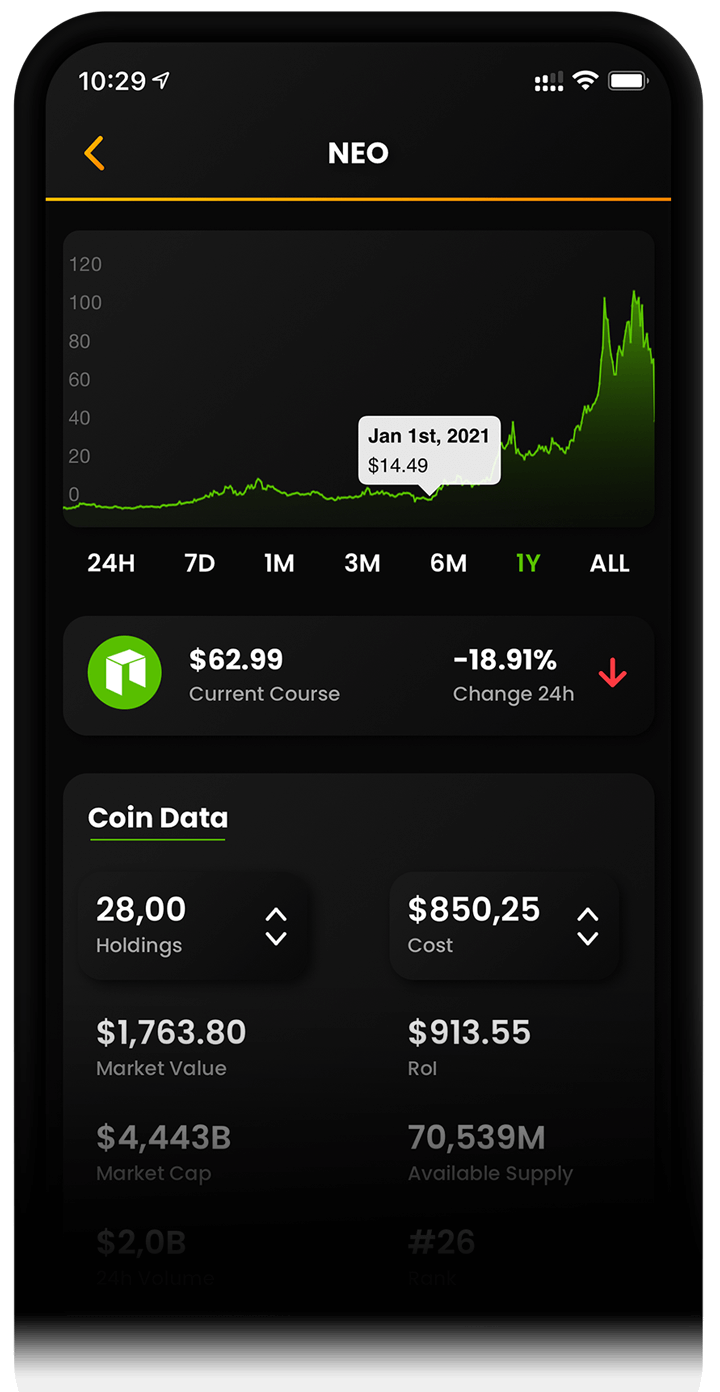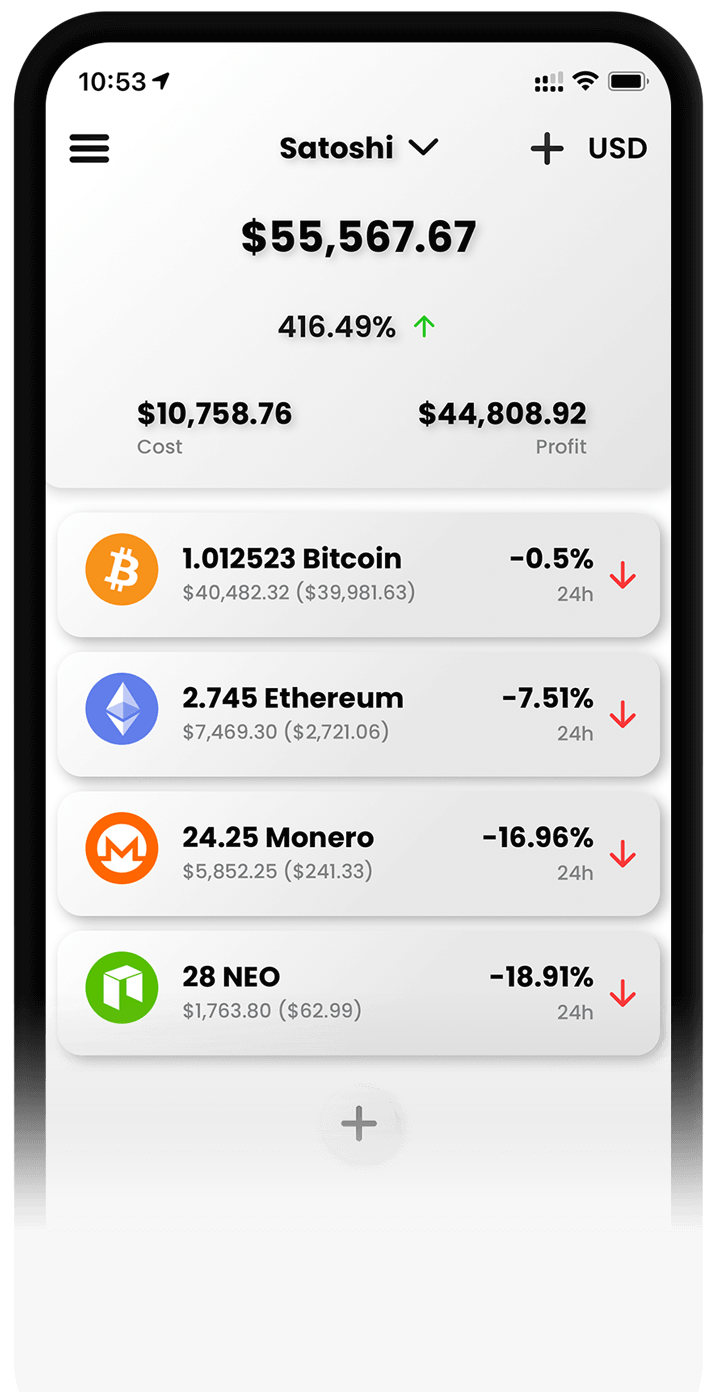 Interactive charts incl. history
See the price movements of your favourite coins and study the price history.
Price-Notifications
Get a notification when your coins are mooning  🚀
Frequently asked questions
If you have any questions, maybe the answers are already here. Discover advices and answers by the team of CoinFolio.
Where will my data be stored?
Your personal data is stored in the free storage on your device and not in any cloud as other apps do.
I have a new smartphone - How can I transfer my Portfolio?
This feature is on our roadmap. Once it's there, you can export your data and import it on a new device.
Is CoinFolio for free?
Yes, the app completely free. You can buy additional features as an In-App Purchase to expand your tracking experience.
Can I track multiple Portfolios at the same time?
Yes – You can set up to 3 portfolios and track them at the same time.
How can I delete a coin from my Portfolio?
If you want to delete a position from your portfolio, just do a "swipe to left" on the chosen position, in the portfolio overview and the delete button is shown.
Can I create a backup of my Portfolio?
We are working on a feature to export your data and back it up on your device.
Do you have any questions, ideas for new features, bug reports or other suggestions? Feel free to let us know and get in touch now.